We all know an up-to-date kitchen significantly raises a home's resale value. It's important to make these projects really count. Kitchen renovations take lot of work and even the most frugal homeowner will invest a lot of time and money in a kitchen makeover. The last thing anyone wants after a kitchen renovation is feeling the need to update it again in a few short years. Focusing on the design of your cabinets, floor plan, lighting, and storage will make your kitchen timeless, not trendy.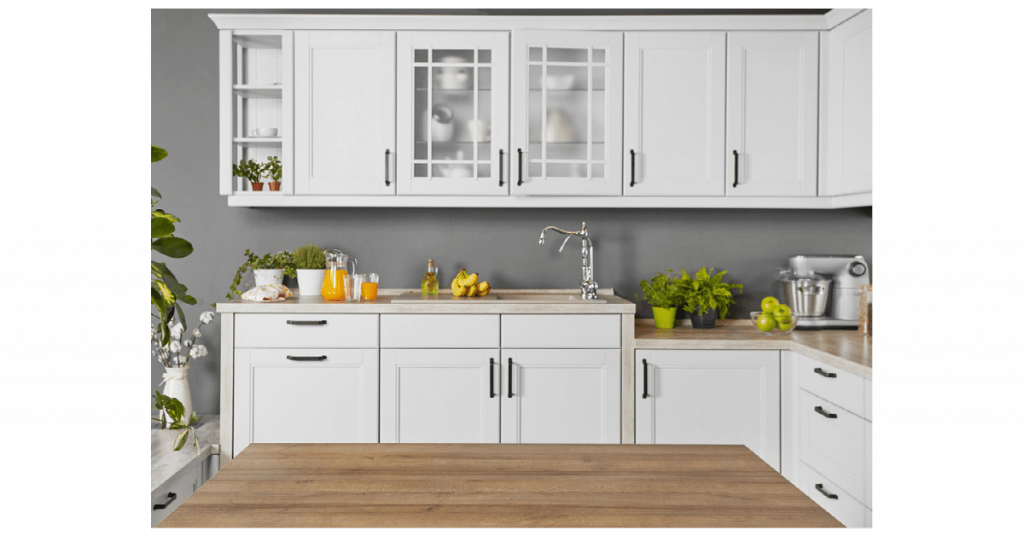 The Color of Your Cabinets 
White and off-white cabinets are the tried-and-true definition of timeless. These bright shades never go out of style. If you're looking for a softer approach, opt for warm grays or beiges that will pair with various hardware finishes should you decide to change these down the road. When painting more colorful cabinets, focus on natural colors like sage or a soft blue. According to Kerrie Kelly, a contributing designer for an article with MarthaStewart.com, organic shades work well over time because they mimic our natural environment. LHS Remodeling & Design offers cabinet painting services if you do not need entirely new cabinets. Our design team will help you select the best color for your kitchen.
Functional Floor Plan
If you need to re-create your entire kitchen layout, look to the Kitchen Triangle rule to plan your layout. This rule guides the arrangement of your three main work areas: the stove, sink, and refrigerator. Together, they should create a triangular shape for ease of movement while working in the kitchen. Each "point" should be roughly 4 feet apart, but less than 9 feet away from each other. The idea is to make an efficient use of space so that you are not walking too much in between each zone. Depending on the space you are working with, refer to the images provided by HouseBeautiful.com to build your Kitchen Triangle. If you have or want an island, you can easily incorporate this into your triangle by putting a kitchen sink in the island or using the surface as a prep area.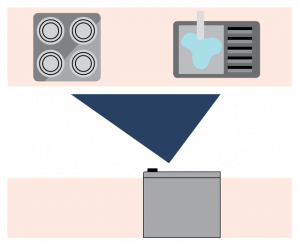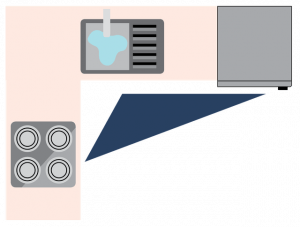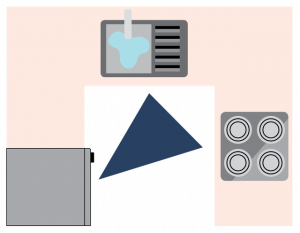 Kitchen Triangle in Galley, L-Shaped, and U-Shaped Kitchen Designs
The More Light, the Better!
Natural lighting is essential to any kitchen and it's likely your home has windows throughout your kitchen. If this is not the case, and let's be honest, you can't easily install new windows, then ramp up the artificial lighting. Overhead lighting brightens the space and is practical for this heavily used room. Install light fixtures above task areas like your stove and sink to illuminate your work space. Add lighting underneath your cabinets to brighten all of your countertops and it can be a soft night light when the kitchen is not in use. Having multiple types of artificial lighting also allows you to transition your kitchen from a prepping and cooking area to an entertainment space.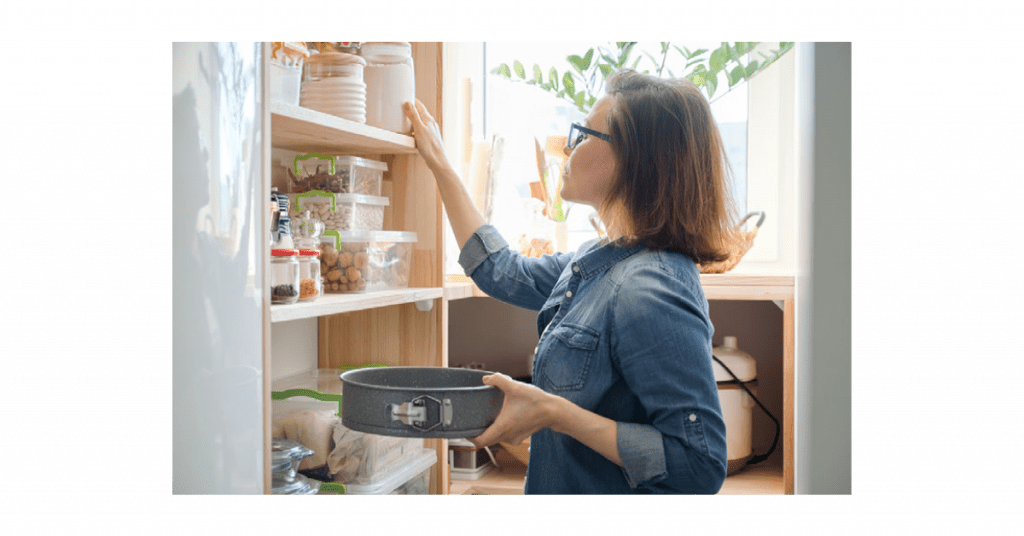 Pantry or Usable Storage Space
Trendy snacks, new kitchen gadgets, and clever appliances will come and go, but the need for storing these items will always be a necessity. Creating ample space for pantry items has become more popular over the years. And it's not just about having an obsessive organized aesthetic, it is practical and financially smart to stock up on shelf stable items and long-lasting kitchen tools. You may also have seasonal dish ware or appliances that you don't use year-round, but should be accessible when needed. LHS can build customized shelving units to make your kitchen practical and comfortable if you are currently lacking storage space.
There are many elements to a kitchen makeover, but focusing on these pillars of design will set you up for success. And it can be difficult to tell when kitchen design is trending or long-lasting, but these 4 areas will help prevent your kitchen from aging. If interior design is an area you do not feel comfortable with making decisions, do not worry, LHS's in-house design team is here to assist you with identifying the aesthetic best suited for you and your home. Call today (734) 270-6960 or fill out our consultation form to get your kitchen renovation going!