At LHS Remodeling & Design, we want to make you comfortable in the driver's seat of your kitchen renovation goals. With our in-house design team, we will guide and define the aesthetic and function of your kitchen. Getting yourself prepared will help you, your family, and our teams as well. Our experience and expertise is here to plan and execute!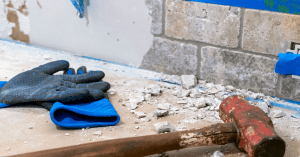 Where to Start?
Take a good hard look at your kitchen's floor plan and the flow of traffic throughout the space. What needs to change? Or what could be better? Start thinking about what flow makes the most sense. If you haven't considered changing the layout entirely, look at your kitchen and ask if it can be better. As pointed out on MarthaStewart.com, start by considering your most used appliances and if they are placed in efficient locations. This will help you take a more objective look at the overall design of your kitchen.
Leave or Stay?
If your goal is to sell your home within the next 5 years, then you should spend what you think you will get back when you sell the home. If, on the other hand, you are planning on living there for more than 5 years, then renovate your kitchen based on the needs of you and your family.
Prioritize!
Write down a list of your dream features or appliances. Then, prioritize what is most important to you to the less essential kitchen updates. If you are hit with unexpected costs that exceed your budget, you'll still have the top priorities crossed off your list.
Be Prepared for Surprises
The older the kitchen, the higher chances of incurring unexpected costs during renovation. A general rule of thumb is to set aside about 20% of your remodel budget for surprises along the way. Water damage, outdated electrical wiring, or other problems areas you and your remodeler did not anticipate can be costly. Better to be safe than sorry.
Cost Breakdown
When it comes to home kitchen renovations, it's important to plan your budget carefully to ensure you stay within your financial limits. Set a realistic budget: determine the maximum amount you're willing to spend on your kitchen renovation and stick to it. Consider all the expenses, including materials, labor, permits, and any unexpected costs that may arise.
Average breakdown of costs for most common kitchen upgrades from HGTV.com:
35 percent: cabinets

20 percent: labor

20 percent: appliances

10 percent windows

5 percent: fixtures

3 percent: fittings

7 percent: other
Do not forget to factor in the cost of take-out!
Remember, a successful kitchen renovation requires careful planning, research, and resourcefulness. By making smart choices and focusing on the essentials, you can achieve a beautiful kitchen transformation while staying within your budget. View our portfolio here to see LHS Remodeling & Design kitchen makeovers.